I recently had an opportunity to visit the Twins new home, Target Field, to cover a short two game series between the White Sox and Twins .  I left town feeling this newest of major league ballparks definitely rates "two thumbs up"!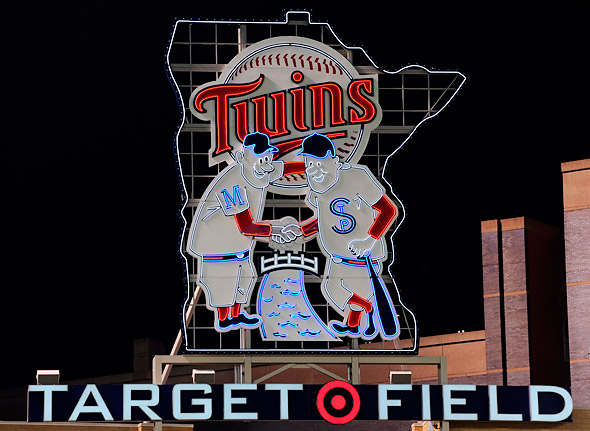 I wish I had the opportunity to have worked out of old Metropolitan Stadium, the Twins home from 1961-1981.  From the images I've seen, it looked like a great place to shoot.  Unfortunately the Met was a memory by the time I got started in sports photography back in 1985.  The Metrodome became the new inside home of the Twins.  For that reason, I can count on one hand the number of times I shot baseball in Minneapolis.   The Metrodome was one of the darkest, most poorly lit professional sports venues I have ever worked in.  It took something special to get me to travel to Minneapolis for baseball.  Indeed, my first trip was special.  I spent a few chilly October evenings there to cover the 1991 World Series.
Dan Gladden slide into home sending Braves catcher Greg Olson on his head and Kirby Puckett's heroics in Game 6 made it one of the most memorable World Series ever.  Great baseball in a not so great venue.
My second and third trips to Minneapolis also involved Kirby Puckett.  I visited the Metrodome on two separate occasions to shoot portraits of Kirby for Score Baseball Card's Dream Team trading cards.
Kirby was one of a kind.  Very accommodating and pleasant to work with.   I still can't believe he's no longer with us.
My last trip was in 2000, when the White Sox clinched the American League Central crown.  That's it.  Why so few trips?  One word.  Metrodome.  Tens years later, the introduction of Target Field has changed my plans.
I really love working out of U.S. Cellular Field in Chicago.  It's one of the best places to work in baseball.  When the White Sox hosted the 2005 World Series, many media members who don't regularly cover games there raved about what a great place it was to work in.  A few of my friends wished that every World Series game could be played there.  Truth is, I would too!  But every once in a while, it's fun to change things up to get a different "look" after covering 81 games in one ballpark.
Time for a road trip.  Being a baseball fan and a photographer, it's a great way to enjoy the game in a way few people can.  I've said before and I'll say it again, I'm very lucky to be able to combine two passions and turn them into a career.
That said, I often evaluate and rate my like/dislike of a ballpark based primarily on the working conditions and layout from a photographers point of view.  For example, I feel that Miller Park in Milwaukee is a terrific place to watch a ballgame as a fan. But for a photographer, Miller Park's high profile, retractable dome creates difficult lighting conditions.  Generally contrasty and dark, it's a tricky place to shoot.  If the dome is closed, imagine two huge dark gobos placed down the first and third base lines.  Any fill light is sucked out of the stadium.   I don't go up there very much for that reason.  Great people, excellent facilities, but photographically ugly.  On the flip side, the Bay Area sports two beautiful stadiums to work out of that my friend and fellow MLB Photos World Series teammate Brad Mangin enjoys on a regular basis..  The Oakland-Alameda County Coliseum may not be the best place in the world to take in a game as a fan, but to work in it's one of a kind.  On the other side of the bay, A,T&T park is spectacular.
Target Field impressed me from both a working photographer and fans perspective.  I love the contemporary styling that is incorporated in the design of the stadium.
In my opinion, it has an Art Deco flair to it.  I especially like the way the lights were built into the roof.  Clean, contemporary, and very different.  The colors (lots of brushed metal and limestone) are unique and very clean as well.   Target Field stands apart from any other ballpark design.
Inside, the media hospitality lounge has enlargements of Twins related Sports Illustrated covers displayed on the wall which adds a nice touch.  There are awesome classic black & white enlargements hanging in the suites of past Twins greats like Harmon Killebrew, Tony Oliva, Jim Kaat and Rod Carew that were taken at the old Met.  Viewing this gallery of images is worth the price of admission alone.
The proximity of the photographers work room to the field has to be one of the best in all of baseball.  I would guess the work room is 40 feet down the tunnel from the inside third camera well.
With a bathroom right across the hall and the Twins media hospitality room nearby for food and beverage, the working environment for photographers at Target Field is outstanding.
In Chicago, we don't have inside photo positions, only outside first and outside third.   When I heard Target Field had an inside third photo position, I was excited to give it a try since I was on a mission to look for something different.  This position has some very cool positive attributes, but it also has a few negative ones as well.   The positives?
Practically being in the visitors dugout allowed me to make close up candid pictures, something we can't easily accomplish in either Chicago ballpark.  The positions proximity to the visitors on-deck circle offers a unique vantage point as well.
Negatives?  Well, there is a huge, incredibly bright LED board mounted into the right field wall that becomes a dominant distraction in the background when shooting the pitcher.  I imagine during a sunny day game it's not quite as bad, but at night the LED board is just too bright and distracting for my tastes.
Unfortunately for photographers over 5′ 7″ tall, the height of the railings protecting the camera wells keeps players out, but also prevents taller photographers from shooting without having to crouch.  You can sit on the metal risers built for elevating the TV cameras and shoot under the bar, so my suggestion is to bring some sort of padding to sit on.  The riser gets uncomfortable in a hurry, as does crouching for 9 innings.  I anticipate this is something that may be addressed in the future, perhaps simply by adding stools.   The only other negative, if you can call it one, is that when the visiting team is up to bat, you can pretty much forget shooting the plate, since the on-deck batter is not only close but usually more often than not directly in-line between you and home plate.   However, it is a great angle to make nice images of the Twins while batting.  Some sacrifice has to be made in order to make those fun on-deck images, I suppose.
All of the photo positions are very close to the field of play.  Foul territory behind home plate is very minimal, hence the distance between the infield and the photo wells is closer than what's typically found at most major league stadiums.  Nice and intimate, this feature of Target Field reminds me of old Tiger Stadium.  I have a word of advice for any photographer planning a trip to Target Field.  Make sure to  bring a 200-400 (Nikon shooters) or a 300 (Canon shooters), because anything longer is just too much!
Enough of my impressions from a working point of view, now it's time to be e a fan.  The concessions are incredible.  It's impossible to leave a game hungry.  Local flavor such as walleye sandwiches and pork chops (or most anything else) on a stick are just a few of the favorites available on the concourse.  A Hiawatha light rail station is located outside Gate 6 in the left field corner.  Incredibly convenient, it's literally only a few steps outside the gate.  What a great way to go from Target Field directly to the airport.  Instead of a $40 cab ride, with some patience, you can make the same trip for $2.50.  I was able to take my camera gear and luggage on board for the return trip to the airport without a hitch.  Nice touch.
I admit I look forward to coming back to cover the Twins again soon so that I can experience the beauty of a summer evening, the setting sun reflecting off of the downtown skyline.  Although it didn't work out this time around,  that's all the more reason to plan another trip up north.