Just as Opening Day brings emotion, optimism and joy to every baseball fan, the last game of the regular season can evoke emotion too, perhaps in a contrasting sort of way.  If your favorite team doesn't make it to the postseason, that last game can make for an emotionally draining, albeit sad day at the old ballpark.
When the White Sox played the Indians October 3 to close out the 2010 regular season, the game may have featured the last White Sox appearances by Paul Konerko, A.J. Pierzynski and Bobby Jenks.  Paul and A.J. have expiring contracts and are expected to become free agents, while Bobby's future with the White Sox, according to various media sources, seems uncertain as he is arbitration eligible.
Should all three end up elsewhere in 2011, that would leave only Mark Buehrle as the lone representative from the 2005 World Champions.   It certainly doesn't seem all that long ago when the White Sox won it all and were champions of the world!  Can it really be 5 years ago?
My assignment on this last day of the 2010 season was to key on Paul and A.J., who obviously have been a big part of White Sox baseball for years.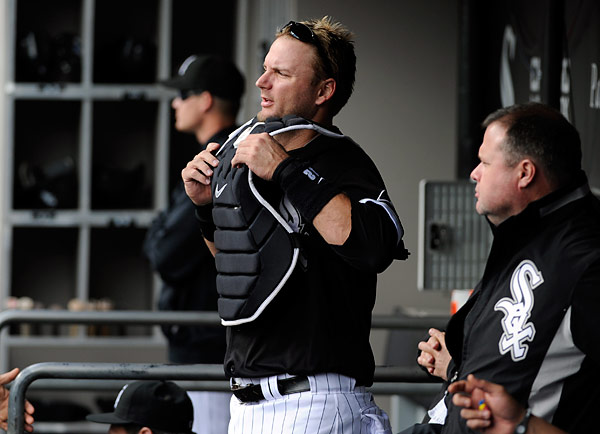 The last game of the season usually triggers some sort of emotion, and this year was no exception.  Maybe it's because I'm getting older and I don't take anything for granted.  Maybe it was the subliminal thought that perhaps Mark Buehrle might actually end up being the lone holdover from an unforgettable team.  Perhaps it's due to the impending temporary separation from the people I interact with on a daily basis at the ballpark for the past six months.
For me, for whatever reason, the season finale also carries with it more and more significance for each passing year .  Come to think of it, each season is becoming more and more significant.  The finale is just that.  The end.  Yet to have an end, there needs to be a beginning.  Think Opening Day.  Then the season follows, predictably, like an old friend.  If all goes as planned, this cycle is repeated year after year.  Add in some postseason baseball to the mix every once in a while (OK, every season would be preferred) and all is well.  A comforting reminder as the curtain closes.
October 3 was the last game for long-time White Sox organist Nancy Faust.  Nancy retired after entertaining generations of White Sox fans at both old and new Comiskey Park (currently U.S. Cellular Field) for 40 plus years.  I made sure to make my way up to to her booth to make one last portrait of her at the ballpark.
Sometimes we save the best for last, as I was surprised and humbled by a phone call the following day from Nancy herself to say that this portrait has become her all-time favorite.  It's calls like this that keep me going.  Thanks, Nancy.
I am often asked what goes on at the ballpark once the season ends.  Only a few days after the final out was recorded, work was already underway in preparation for the 2011 season.  On the field, Roger Bossard's hard working ground crew had the entire infield ripped up and re-sodded by midweek.
What a contrast when compared to the same view on Opening Day 2010.
Looking back on my 2010 season, here are a few of my blog related highlights:
Photographer's Favorites-25 Years with the White Sox; I added a few new images to my list of favorites as I had "one of those days" back in early September.  Here is a new favorite:
White Sox-1st Place at the All-Star Break? Yesssss!; Need I say more, it was an exhilarating run by the White Sox to the top of the American League Central Division leading into the All-Star break.
The good news for me is that my baseball season isn't entirely over, as I look forward to covering my 19th World Series later this month while working for Major League Baseball Photos.
So this isn't my "so long for now" to baseball so much as it is "It ain't over till it's over"! (apologies to Yogi).
With four more weeks of baseball to enjoy, be sure to take in as much as you can.  It won't be long before every stadium lies dormant, the leaves will have fallen from the trees and the landscape will take on a depressing gray tone for what seems like an eternity.
That is, until Opening Day, when the cycle of life that is baseball will start all over again.