I have always felt that Opening Day should be declared a National Holiday.  For me, it's kind of a religious experience of sorts.
Since baseball IS known as "America's Pastime", what better way to celebrate than to make sure school has been canceled, workers are given the day off (with pay, of course) banks are closed and the need to feed parking meters suspended.  There is a certain feeling in the air this day.  Spring doesn't really begin March 20th, it begins on Opening Day.
Everyone's favorite team is always in first place.  Optimism abounds.  The ballpark is spotless, sporting a new coat of paint on the railings, the grass is incredibly green.  Fans line up hours before the gates open.  There are parades, fly overs, ceremonial first pitches, large American flags draped across the outfield, color guards, celebrity sightings and famous recording artists singing the National Anthem.
Red, white and blue bunting is hung from the railings along the foul lines, even from the upper deck.  You can smell the hot dogs and onions being readied for consumption.  Oh, what a wonderful smell that is!  Local television crews are everywhere, looking to interview fans, players, even team photographers.  Teams lineup for formal introductions, only to do that again when 8 teams begin postseason play in October. There is an incredible amount of life and energy in the air.  It's Opening Day!
On this particular Opening Day, I arrived at the ballpark at 6:00am, even though the game doesn't start until 1:05.  I am a notorious early arrival on game days in general, but on this day, I was scheduled to be interviewed live on the WGN-TV Morning Show during the 7:40 time slot.  So, naturally, I made sure I arrived with plenty of time to spare.  Even if I wasn't scheduled to be interviewed, I would be there plenty early.  It's Opening Day!
Records fall on Opening Day.  This year, Mark Buehrle set the record for most Opening Day starts by a White Sox pitcher by making his eighth start, breaking Billy Pierce's club-record of seven Opening Day appearances set back in 1959.
Speaking of records set or broken, how about Bob Feller tossing a no-hitter against the White Sox on Opening Day back in 1940?  You never know what you might experience on Opening Day!
I've been looking forward to the April 5th White Sox Opener against the Indians since November 4th of last year, the day the Yankees defeated the Phillies to win the World Series.  I live baseball.  It's a part of my makeup.  My second home from April through October is U.S. Cellular Field.  If you can't find me, please check the first base photo box.  The entire front office staff is like my extended family.  To work in baseball, it helps to love baseball.  And that I do.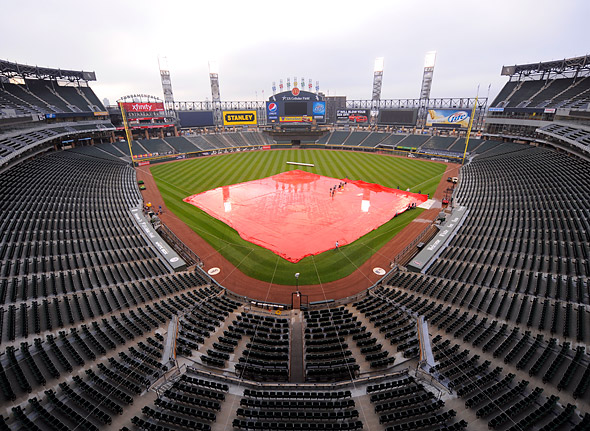 Which brings me back to why Opening Day is such an important day for me and millions of fellow baseball fans.  Everything is fresh, new and exciting.  Forget about the dog days of summer.  There will be plenty of time to angst about that come August, when only a handful of teams remain in a pennant race.  Today, every team is in one.  Play ball!