As a change of pace, I thought it would be fun to thumb through my chromes, grab a Schneider 4x loupe and take a look back at some of the baseball history I've captured over the past 26 years.  With so many categories to choose from, it was hard to decide where to start.
The art of base stealing has always been an exciting aspect of the game that I've enjoyed both as a fan and photo journalist, so I decided to start my retrospective journey by looking back at some of Major League Baseball's premier base thieves that I've been able to catch (on camera) over the years.  There were some familiar names at or near the top of the list, but there were also some surprises too as I researched the top 50 base stealers of all-time. Let's take a look.
The list starts with the greatest base stealer of all-time, Hall-of-Famer Ricky Henderson. "Rick the Quick" drew photographers attention everywhere he went, like a bug to a light. Every time Ricky got on base you knew what would be happening next, and rarely did Ricky disappoint.  Ricky was a great athlete and a great entertainer.
Number 5 all-time is Tim Raines. I had the pleasure of covering "Rock" on a regular basis while he was with the Chicago White Sox, both as a player and coach. Rock was such an accomplished hitter and fielder that the base stealing aspect of his game flew under my radar.  I guess I got spoiled by his overall talent. Tim did it all.
Vince Coleman.  Number 6 all-time, Vince burst onto the scene as a rookie in 1985 with 110 stolen bases (yes, 110. I still am blown away by that stat).  Naturally, in 1986 Vince became the focus of attention, mine included.  I was able to convince Vince to pose "stealing" a base when the Cardinals came to Wrigley Field that year. Try asking a player in this day and age to pose minutes prior to a game like I did.  Ah, the good old days!  Vince of course went on to help lead the Cardinals to their 1987 World Series appearance versus the Twins a year later.  This, of course, was only two years removed from helping the Cardinals get into the "I-70" 1985 World Series against the Royals, one which he did not get a chance to play in due to a freak injury after getting tangled up in the automatic tarpaulin at Busch Stadium during the National League Championship Series.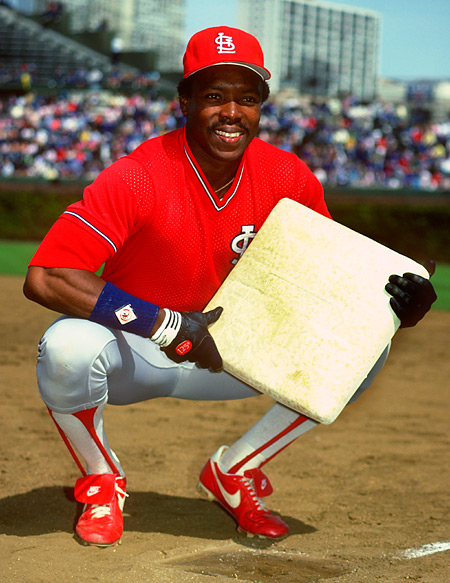 Speaking of the Royals, during the 80's one of the most dominant base stealer's was the Royal's own Willie Wilson, number 12 all-time.  Willie's speed, coupled with the bat of Hall-of-Famer George Brett and the pitching of Bret Saberhagen helped make the Kansas City Royals perennial American League contenders, culminating with a World Championship in 1985.  Willie was more than a base stealing threat, also winning the American League batting title in 1982.
Kenny Lofton brought the speed to the great Cleveland Indians teams of the 1990's. In what seemed like a sure thing (at least when the Indians played the White Sox), Kenny would get on base, steal second base then cruise home on hits by Jim Thome, Albert Belle, Sandy Alomar Jr. and a cast of others.  The last thing a pitcher wanted to do was give Lofton a free pass, because once on base the pitchers focus turned toward Lofton, opening up a parade of fastballs to the heart of the Indians order.
As I paged down the list of the all-time greatest base stealer's I began to find players I either forgot about or just didn't register as being top base thieves.  At number 21 is the great Wizard of Oz, Ozzie Smith.  Ozzie did it all.  I remember him as a premier defensive shortstop, but with 580 lifetime stolen bases, The Wizard was obviously a threat on the base path as well.  He was one of those players who without question was worth the price of admission!
Brett Butler was another player that seemed to "to it all".  Always a threat to steal, he also made bunting look so easy.  The opposition knew Butler would be laying down a bunt but still couldn't do much about it.  In today's game, bunting seems to have become a lost art.  Such was not the case with Butler.  His recipe for success was simple.
Bunt for a hit, steal second, then be driven in by the middle of the Dodgers line up.  At number 24 all-time with 558 stolen bases (and 2,375 hits), in my opinion, Butler was one of the more underrated players of the 80's and 90's.
Current White Sox outfielder Juan Pierre sits at 29th all-time, and is the only player in the top 50 still active in the major leagues.  With three stolen base titles under his belt, Juan is one of only two players that has captured this title in both the American and National leagues.
Hall of Famer Paul Molitor was another one of those players that flew under the radar when it came to being categorized as a base stealing threat.  With 3,319 hits, Molly had probably the quickest hands I've ever seen.  His compact swing and quick hands were something to witness.  He was probably the most difficult batter to photograph while attempting to capture ball off bat. Bang. Base hit.  And more often than not, you'd miss the impact. Lost in his stellar hitting was his base stealing prowess.  At number 37 all-time with 504 stolen bases, he was a threat at the plate, on the base paths and in the field.
My conclusion after researching for this blog?  Every one of these players played a role in helping making their respective teams contenders or champions.  The value of speed on the bases can't be underestimated.  Bring speed to the table, and you'll usually find a team at or near the top.
Not to mention excitement.  As the saying goes, speed thrills.