If I ever need to remind myself how important it is to keep my mind and creativity fresh while covering over 100 Major League Baseball games every year, all I need to do is take a journey through my chrome library and revisit baseball history. Wow. Talk about a trip down memory lane! Have I really been photographing baseball for nearly 27 years?
My archives say yes. I am on a seemingly never ending quest to digitize my collection of baseball history. I found a fun way to get me to sit down and spend some quality time with my Nikon CoolScan was to come up with a retrospective look back at some of baseball's best players as seen through my eyes through the years.  Last month I kicked off what I hope to be a continuing series of stories, focusing on baseball's best base stealers.
This time around, it's about the men with ice running through their veins.  The closer.  As any baseball fan will tell you, having a dominant closer on the roster can make the difference between being contenders or pretenders.  And with Mariano Rivera in the news as he approaches Trevor Hoffman's record as the all-time saves leader, what better time than now to take a stroll through my tens of thousands of slides and see how many of the top ten all-time closers I have had the good fortune to photograph.
To my surprise I discovered I had images on 9 of the top 10. I guess since the save category wasn't created until 1960 by the late great baseball journalist and historian, Jerome Holtzman, this is one statistical category I have well covered as part of my photo archive.
Without further adieu, let's get started.
Number ten is Rollie Fingers.  Although I attended games where Fingers pitch, I was a fan and not a photographer so I never had the chance to make any frames of the future Hall-of-Fame hurler.  Oh well.  My favorite memory of Fingers was when he was a member of Harvey's Wallbangers, the 1982 American League Champion Milwaukee Brewers.  The 1982 Brewers were one of my all-time favorite teams, even though I was a diehard White Sox fan.  How could you not like the Wallbangers?  Cecil Cooper, Stormin' Gorman Thomas, Robin Yount, Fingers, Pete Vuckovich and company.  They had a personality that grew on me.  Working class.  Old school.  I don't know what it was exactly, but they were fun to watch.  Good fortune came my way that fall as I was able to attend Game Four of the 1982 World Series, a game which was one the last regularly scheduled daytime World Series games but also the game which Ozzie Smith scored from second base after tagging up on a sacrifice fly.  I can still smell the intoxicating aroma of grilled brats wafting through the parking lot as I made my way into County Stadium on a cool, crisp fall Saturday afternoon in the city Harley-Davidson made famous.
Number nine with 347 saves is former Padre, Reds and Cub closer Randy Myers.  I remember Myers best as being a member of Cincinnati's  "Nasty Boys", the lights out bullpen trio made up of Myers, Rob Dibble and Norm Charlton.
The Nasty Boys helped lead the underdog Reds to a stunning four game sweep of the seemingly invincible Oakland A's in 1990 World Series.
Next on the list, logging 358 saves is Troy Percival.  Troy at number eight was a surprise, at least for me.  I mean, I knew he was good, but he was a good example of how someone can fly under the radar.  My made one of my favorite jubilation pictures when he closed out Game Seven of the 2002 World Series, leading the Angels to their first World Championship.
What made it even more special was that my good friend and fellow baseball photographer V.J. Lovero was able to earn a World Series ring after having been the Angels team photographer for many years.  I still and will always miss you V.J.
367 career saves earned Jeff Reardon the number seven spot on the list of baseball's top closers.  Digging through my files, I found some awesome, retro Montreal Expos powder blue road frames of Reardon pitching against the Cubs back in the mid 1980's.
Next up is no surprise.  A Hall-of-Fame inductee in 2004, Dennis Eckersley logged 390 career saves during a career which many baseball fans know began as a starting pitcher.
His departure from the Cubs signaled the beginning of the end, so to speak, for countless American League batters with Eckersley's arrival in Oakland. The A's converted Eckersley from started to closer upon his arrival in the Bay Area, and shortly thereafter began their rise to power as an American League powerhouse.  Coincidence?  I think not.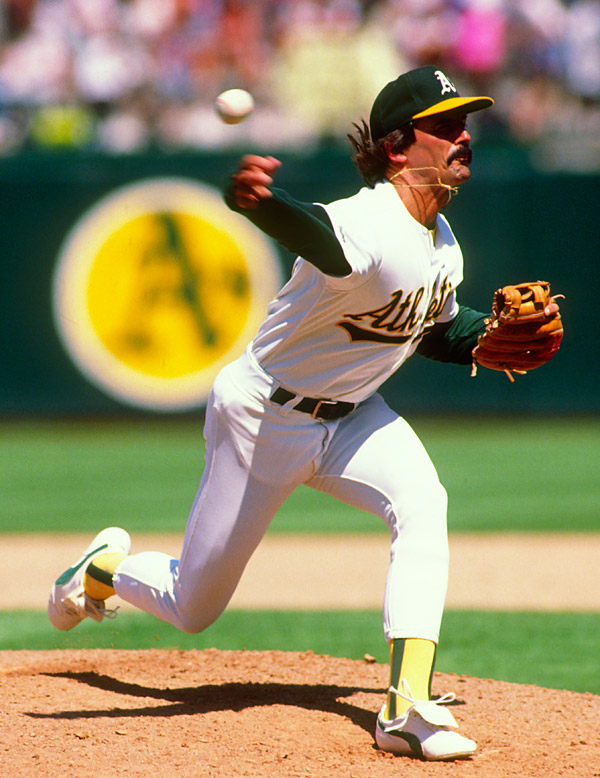 Billy Wagner comes in next at 422 saves.  Another sleeper in my humble opinion, I suppose only because of his average showing in the post season.  But if you save 422 games, you've got to be doing something right.
So hats off to you Billy.  You obviously got it done.
John Franco.  424 saves places him fourth on the all-time saves list. Franco earned most of his saves with the Mets, but for some reason I remember him more as a member of the Cincinnati Reds.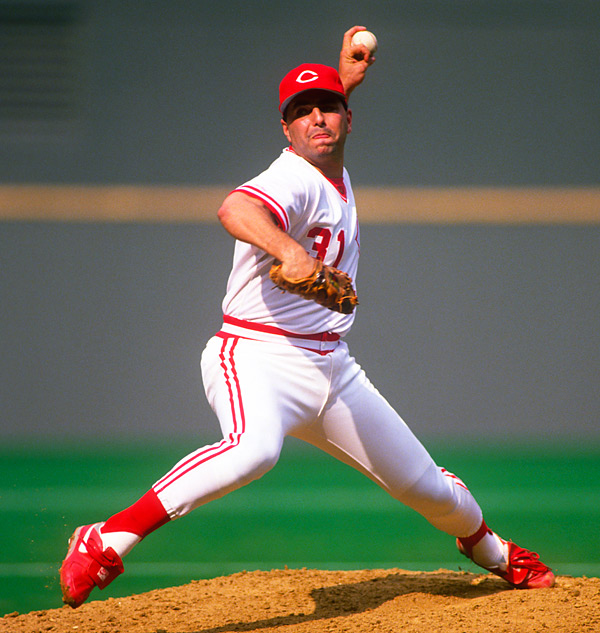 Here's an interesting bit of baseball trivia.  Franco was traded from the Reds to the Mets for another top ten saves member.  Can you name him?  Hint.  He became one of the Nasty Boys.
Just as there is a special mindset that closers must be in prior to entering a game, and there is also a special mindset that baseball photographers must enter if they are to successfully photograph closers doing what they do best.  Why? Closers often throw less pitches than any pitcher on the roster.  Quite often, they might throw less than ten pitches.  Ten pitches doesn't provide the "photo opp" that starters do, that's for sure! Warm up pitches don't count.
Many closers have unique motions (Troy Percival), gestures (Eckersley's trademark finger pointing after recording the final out) and angles (Billy Wagner) from which to be photographed from.  Throw in manual focus (what's that you say?) and the odds of making the picture you're hoping for just got got tougher.
That said, it helps to have an idea how you want to photograph them before they enter the game.  Shadows are often moving quickly late in the game.  I still remember making the Franco picture at Riverfront as I watched the shadow race toward the mound.  No delays please!
Moving on to the top three, it's time to look back at Lee Smith.  478 saves.  Wow.  Whenever the big man strode ever so slowly to the mound there was a feeling the game would soon be over.  I loved working the late afternoon sunlight to my advantage whenever Smith entered the game at Wrigley Field.
The light could be screaming late in the game, and seemed tailor made for Smitty.  Be quick, though.  The game was often over before you knew it. Hall-of-Fame credentials?  The argument seems to center on how dominant Lee was (see Dennis Eckersley with 88 fewer saves than Smith yet already in the Hall) . The numbers are there for sure.  Discuss.
Number two is none other than Mo, Mariano Rivera.  Rivera defines closer.  Not only does The Sandman have 600 regular season saves to date, but he also has earned 42 postseason saves.  Dominant? How about the best ever.
One might wonder how the Yankee dynasty of the late 90's through 2009 might have played out without a closer as dominant as Mariano. Lights out, baby.  The Sandman has taken the mound.
For perhaps a few more days, Trevor Hoffman sits on top of the all-time saves list with 601.  A seven-time All-Star, Hoffman successfully closed out more games than anyone in Major League Baseball history.
Unfortunately, he mysteriously lost his mojo while with the Milwaukee Brewers in 2010 after putting up All-Star numbers in 2009 with the Brew Crew.
Hoffman will soon bequeath his crown to Mo.  It might be a long time before we see this record broken.  Long live The Sandman.