My twenty-first World Series kicked off under beautiful, sunny skies at A,T & T Park Tuesday night as the Detroit Tigers and Justin Verlander took on the never say die San Francisco Giants with Barry Zito on the hill for the Giants.
Working once again for Major League Baseball Photos, I teamed up with fellow photographers Brad Mangin and Rob Leiter.  This was to be my first year as the "field photographer" during pregame, a responsibility with which I warmed up to during last year's World Series during Game One in St. Louis and again in Kansas City during the All-Star Game.  I felt prepared and ready to take on the responsibility, which, if you let it get into your head, can seem a bit overwhelming.  No worries.  My daily experience handing pregame duties for the Chicago White Sox during the regular season prepared me well.  Speaking of the White Sox, I had a chance to catch up with one of my all time favorite player/people, Omar Vizquel, as he announced "Play Ball" to the frenzied Giants faithful.  Omar always knows where the camera is, and as you can see below, he can find it even when he's not trying!
For Game One my photo position was the spectacular spot in the Lexus luxury boxes commonly known as the "Brad Mangin Spot"! I missed out on shooting there during the 2010 World Series since the Giants took care of business in five games in Texas and we didn't return to San Francisco.  I was thrilled to finally have the opportunity to experience this position, and it didn't disappoint!
This spot is exclusive. No other photographers would have this angle.  Unique, exclusive, cool…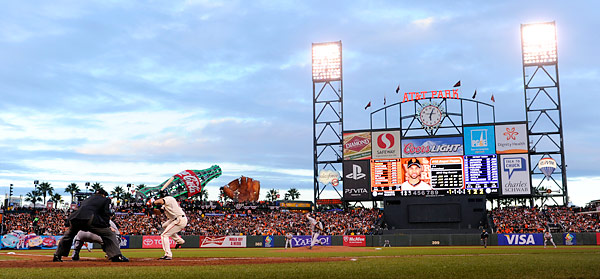 Yep, this spot was so cool, so beautiful… this night was one to enjoy and just try to make fun pictures!  Going into the game, conventional wisdom would suggest that Justin Verlander might very well be the story, since he has been so dominate both during the regular season and the 2012 postseason.  So for me, that meant gearing up to capture images of him from multiple angles and focal lengths.
I've got one word to describe what happened to the "conventional wisdom" theory…  Panda!
Pablo Sandoval's historic night brought back recent memories of a night I experienced in Texas only one year ago dominated by one Albert Pujols.  I see the Tigers quite a bit, and I don't recall seeing Justin Verlander struggle like he did during Game One…. seemingly ever!
The Giants took control of the game early and never let go. The Panda wouldn't have it any other way.  To say he was locked in was an understatement! Game One was all about Pablo.
After Sandoval connected for number 3 in only the fifth inning, I thought he had a legitimate shot at making World Series history by clubbing a fourth, but it was not to be, at least on this night.  What was to be (and not to be overlooked) were solid pitching performances by Giants starter Barry Zito and starter come reliever Tim Lincecum, holding the powerful Tiger offense in check throughout the night.
The Giants dominated offensively and defensively, frustrating the Tigers all night long.
The question I pose is this.  Will the Giants feel a sense of relief in defeating Verlander that their intensity suffers, giving the Tigers an opportunity to get back in the Series during Game Two, or will they continue to take it to the Tigers keep the pressure on the Mowtown Kitties?  If so, this could be a short Series.