My All-Star break this year was anything but as I was offered and gladly accepted the assignment to be Major League Baseball's lead photographer at the All-Star Game in Kansas City.  There is SO much more going on during the All-Star Game festivities than just a baseball game, especially when you're working for the League itself!  The assignment kept me going full blast over the 3 day break, so much so it all seemed like a blur.  Now that I have time to look back…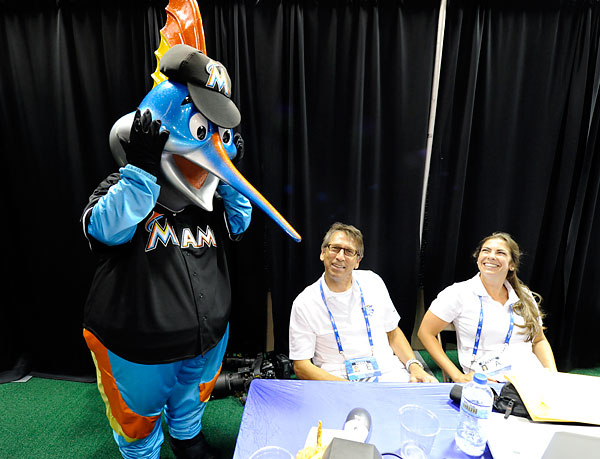 I landed around noon on Sunday and was whisked to Kaufmann Stadium to first get settled in (quickly) to what turned out to be our non-air conditioned office for the next three days, which was "our" half of the American League All-Star's indoor batting cages.  Before I could say Arthur Bryant's (regrettably, I didn't have the time to sample some of KC's best barbaque), it was right back out into the 100 plus degree heat to cover the Future's Game.  Having total access has its privileges, so keeping the White Sox interests in mind was an easy task.  Our minor league Futures representative, Carlos Sanchez of the Winston-Salem Dash, received a bit more personal attention from me than some of the other participants, which made the Dash PR folks very happy!
That evening, it was time for the celebrity softball challenge and once again, I was "inside the ropes" looking for that special feature image. Truth be told… I'm still looking.  But I have to admit, I seeing Bo Jackson is always it a thrill.  Bo KNEW sports!
Monday our MLB Photos team, lead by Manager Jessica Foster, Editor Jim McKenna and local KC photographer Kyle Rivas arrived around 11am to begin our day.  I started it out by scoping out the A/C power availability near the centerfield wall to use for my All-Star team photos scheduled during Tuesday's All-Star batting practice session.
Then it was time to set up a studio in one of the field level suites.  With all good intentions, we found it difficult to get many of the All-Stars over to the suite, since it was off the beaten track a bit. I was set up to take group and individual portraits, even family photos.  It became a bit lonely from the lack of traffic.  6pm soon came and it was time to tear down and start preparing to cover the Home Run Derby.
But first, a little pregame entertainment.  I had fun scoping out the band of the evening, taking in what ideas I could from them that I could apply to my band, The Stingers, back home.  My rock n' roll fantasy ended quickly, and it was back to baseball as I headed on field as the sole photographer allowed to mingle with the participants and players.  I felt a bit like Wayne and Garth with my "all-access" access.  The only thing that seemed to be missing was Stan Makita's doughnut shop.  Schwing!
Covering the Derby was fun, and in the end it was the Tigers Prince Fielder walking away with the 2012 Home Run Derby crown.
All-Star Tuesday was upon us before we knew it, and my first priority was to prepare and set-up to take the official All-Star team photos during batting practice.  That's right, during batting practice!  Remember, baseball fans, what goes on during batting practice?  Hitting?  And my job, while the best baseball players in the world hit baseballs, was to set up the lighting so that both teams could quickly walk out to centerfield to pose for their respective team photo in between AL and NL BP.
You guessed it, we became targets!  Thankfully, I knew better and arranged to have some of our photo runners bring in their baseball gloves so they could work on their fielding skills while keeping me, the equipment and my borrowed assistants for the day, Texas Rangers team photographer Brad Newton and Kansas City Royals team photog Chris Vleisides, from being drilled.
Kudos to Los Angeles Angels hurler and fellow photographer C.J. Wilson for snagging some line drives heading our way while shagging flies during AL BP! I learned about this the hard way back in 1988.  I was assigned to photograph Cubs outfielder Andre Dawson up against the ivy at Wrigley Field during batting practice.  Without an assistant, I was a sitting duck.  I lost a light and umbrella just prior to the shoot!
Finally, game time! I was again out with the Fox cameramen covering the pregame ceremonies and was grateful there were two National Anthems, both of which were sung nice and slow!  It can feel very surreal when you're the only photographer on field during an event like the All-Star Game.
If you stop and think about it, it can get into your head.  So, I've learned to just put the blinders on and do whatever I want while keeping one eye on the network cameraman.  Ultimately, they have the right-of-way, so as long as I bob and weave around them, everything works out just fine.
After the game we all unwound at a fun little night spot in downtown Kansas City for a little late night nibbles and beverage with our crew.   It was a whirl wind three days for me, exhausting yet well worth it.