I can only use one word to describe Game Two of the 2013 World Series…. Painful.
Not just painful for the legions of Red Sox faithful shoehorned into Fenway Park on a chilly autumn evening after the Red Sox let a 2-1 lead evaporate into a 4-2 Cardinal win, but especially painful for yours truly.
The evening started out auspiciously enough, with local music legend James Taylor singing the National Anthem.  The Cardinals Michael Wacha and the Red Sox John Lackey then settled into a classic pitchers duel, albeit without many if any visual highlights. Pitchers duels… Yawn…
I switched out photo positions with my teammate Brad Mangin for Game Two, shooting from a very cool position hugging the left field foul line near where the wall juts out toward the Monster. It provides a unique angle not available in any other ballpark. After Matt Holliday hit a triple and scored on Matt Adams single to give the Cardinals a 1-0 lead, it was Big Papi, David Ortiz, who woke up the 38, 436 fans with yet another two-run opposite field home run to put the Red Sox up 2-1.
Then, things got painful.
After the Cardinals loaded the bases with one out in the seventh inning, Matt Carpenter sent a fairly shallow fly ball to left fielder Johnny Gomes, who launched an off target throw to the plate allowing Pete Kozma to score.
Here's where it began to REALLY hurt…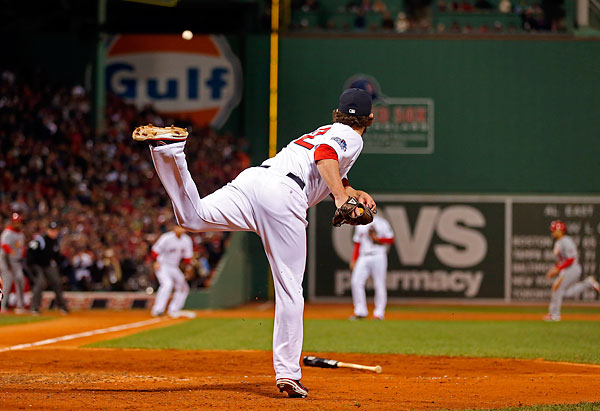 After Gomes throw got away from catcher Jarrod Saltalamacchia, Red Sox pitcher Craig Breslow fired an ill-advised, wild throw toward third base on an attempt to catch Matt Carpenter advancing to third base…
Next thing I know, I felt like someone sucker punched my on the left side of my face!
Stunned, I slowly crumpled to my right after putting two and two together and realizing that Breslow's wild throw hit me on the right side of my face!
I was REALLY lucky… an inch either up or to the right and I'm sure Breslow's errant throw would have shattered my glasses, cheek bone or worse.  Cross off yet another one of my nine lives.  Who says shooting professional sports is glamourous and without risk??
Check out the 1:12 mark on this MLB video of the play and if you look closely, you will see a photographer (might I add the ONLY person not ducking for cover) go down, slowly, as everyone else scatters.
Geez… When am I going to give up trying to make a Pulitzer while risking life and limb??  Kidding… Obviously I wish I would have ducked like everyone else.  The ball girl even apologized after the play, but it wasn't her fault, the ball was in play.
That is, until it whacked me.
I ended up leaving the field to ice down the swelling, so my night was over. After the game, Associated Press Photographer Elise Amendola presented me with the baseball that hit me.  Pretty cool and very classy, Elise.  Thank you!
Getting drilled however didn't prevent me from participating in our MLB team photo before departing Fenway.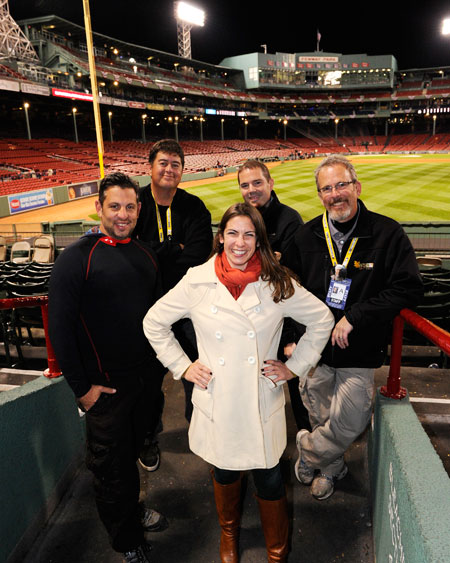 This morning we flew to St. Louis on the MLB charter and I went straight to our hotel, not to ice or rest up, but to pen this blog…  I'll be back at it tomorrow night.  Things might stagger me, but I'm not goin' down without a fight.
Game Three, bring it on!