San Francisco Giants ace Madison Bumgarner was THE story of Game Five of the 2014 World Series, hurling a complete game, 5-0 shutout to give the Giants a three games to two lead as the Series heads back to the midwest for Game Six Tuesday night.
Since there was no "clinch" possible Sunday night, I was able to head upstairs and shoot overhead. I love shooting overhead, especially during big games such as the World Series. The vantage point is amazing, and there are very few, if any "dead spots" on the field.
You're rarely blocked shooting up top.  It's not completely free of obstructions, though.  When Hunter Pence and Pablo Sandoval celebrated rather emotionally to give Burgarner a bit more breathing room in the eighth inning, the home plate umpire was directly between my 500mm Nikon lens and the most of ensuing celebration.
Fortunately, the MLB photos team had three other photographers in different positions around the ballpark, so even though I might not have had a clear angle, someone did.
Travis Ishikawa made a valiant diving effort on a drive hit by Omar Infante , which was exactly what the doctor ordered for all of us shooting upstairs on what turned out to be a wonderfully pleasant October evening.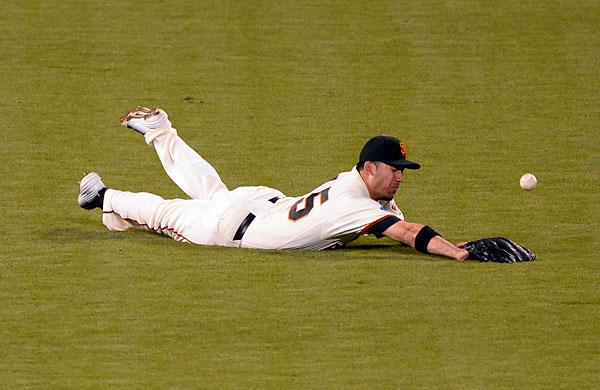 Although Ishikawa may have missed on this play, the Giants, led by the 4 hit, 8 strikeout and NO walks performance by Bumgarner, surely didn't miss a beat, setting the stage for their third world championship in 5 years Tuesday night at Kaufmann Stadium.
Jake Peavy will be on the bump for the Giants as the Royals will put their 2014 season chances on the line with young Yordano Ventura. I have a feeling it's gonna go seven games this year, and rightfully so.  Both teams have had tremendous seasons, so should only fitting that it would come down to a winner take all game Wednesday night.