I'm goin' to Kansas City, Kansas City, here I come…
The Giants made that a certainty  with a resounding comeback against the Kansas City Royals in Game Four of the 2014 World Series.  But since this is a recap of Games Three AND Four, I'll start my recap with Game Three. Makes sense, right?
Opening ceremonies at A,T and T Park were held under beautiful, sunny skies in that wonderful City by the Bay.  Well, beautiful if you didn't have to shoot under those conditions! Dark shadows and a bright background made shooting pre game ceremonies a challenge.  While my Nikon SB on camera flash is excellent, it just can't quite throw the amount of light I'd like from a distance.  Not ideal, but I made it work.
For Game Three I was positioned in the outside third base photo well adjacent to the Giants dugout.  As usual, the photo box was quite "cozy" but after some adjusting and having unnecessary personal removed from the photo well, things were workable.  Not perfect, but as is the case when covering any big event, it never is. But everyone asked to take on an assignment like the World Series knows this and we all work together to make it work...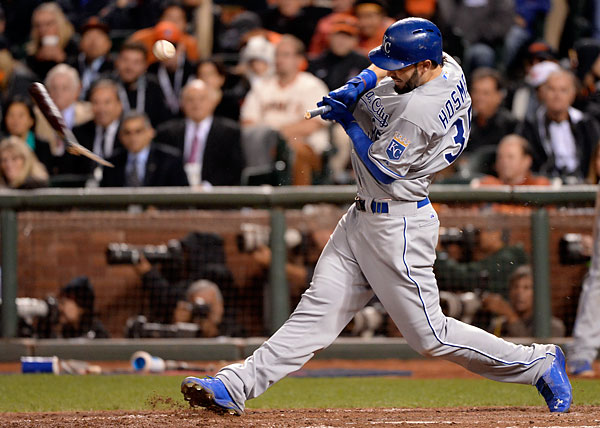 As for the game?  Game Three might have been fun for a baseball purist, but as far as photos go, it was lacking.  We all like dives, collisions (rare any longer due to the new rule changes), errors… you know… ACTION!
Not this night.  The Royals hung on to win Game Three 3-2 to take a 2 games to 1 lead in this best of seven Series.
Game Four's weather forecast included a chance of rain during the evening and unfortunately, the forecasters were right.  Not enough rain to stop the game, but enough to be what I call "nuisance showers".  Rain cover on, rain cover off… Hey, it sure could have been worse!
Being on the field during pre game occasionally gives me the opportunity to photograph some cool moments and people and prior to Game Four I had a chance to photograph, listen to and enjoy the National Anthem as played by none other than San Francisco native and rock guitarist icon Carlos Santana.
Being a bass player myself, I found myself checking out his gear (he's a PRS player for all you guitar players out there.. he had three tuned and ready to go).  Loud, dirty, awesome.  He was joined on keyboard by his son Salvador.
One of those little "perks" of the job.
I shot Game Four from the outside first photo well, just beyond first base past the Royals dugout.  Again, cramped conditions made swinging cameras quickly from home to the outfield a challenge, but I like challenges!  Hah!
The Giants jumped out to a quick 1 run lead without the aid of a hit in the first inning but the Royals quieted the Giants faithful with a 4 run third and it sure seemed like we might possibly end the Series in San Francisco.  A,T & T Park was so quiet it was erie.
The Royals seemed to be in total control and with their vaunted and up to this point seemingly invincible bullpen ready to go, things didn't look good for the orange and black faithful.  The Giants, however, chipped away and tied the score as the ballpark started to come back to life along with the Giants.
Then, with two outs and the score tied in the sixth, the "Panda", Pablo Sandoval, delivered a clutch two run single to give the Giants the lead.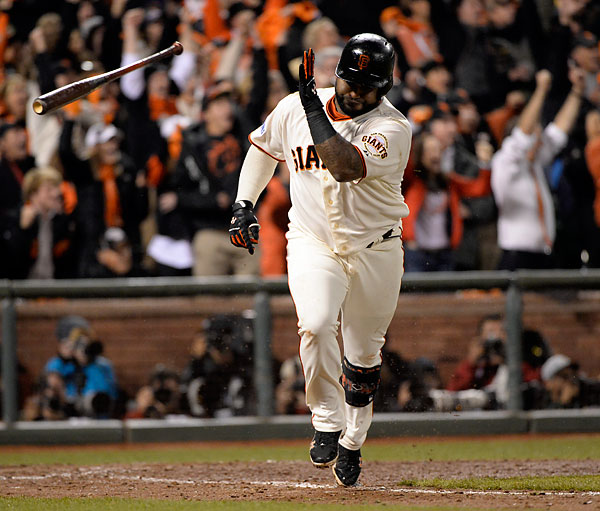 They busted the game wide open with a 4 run seventh and after scoring 10 unanswered runs, the Giants made the game a route.  Looking back at around the third inning, I'm sure many baseball fans didn't see that coming. Especially fans wearing the royal blue.
Tonight is Game Five and then our MLB Photos crew will board a charter and head back to Kansas City for a potential Series ending sixth game Tuesday night in Kaufmann Stadium, where it should be rockin' for sure.