14 innings!! What a memorable World Series Game One! It had it all… rain drama, an inside-the-park home run, great defense, closers giving up the lead, and of course, a walk off moment…
The day started quite wet… and the forecast wasn't good.  But somehow, someway, Mother Nature decided to give in and miraculously, allow for an on time start to Game One, which was a blessing in disguise since the game lasted over 5 hours!
The Royals got it going right away when Alcides Escobar hit an inside-the-park home run to put the Royals up in the first inning.  Kaufmann Stadium was alive in excitement.
Curtis Granderson's homerun in the fifth inning gave the Mets the lead as the game and emotions began their swing back and forth.
The Royals are a never say die team and tied it up in the sixth, but, as the game wore on, the Mets regained the lead and it looked pretty good for the Metropolitans as their closer, Jeurys "We are" Familia entered the game in the ninth.
Alex Gordon provided the dramatics with a clutch, one out solo home run to send the game into extra innings…
Five plus hours and 14 innings later, with the bases loaded, Eric Hosmer put an end to this historic game with a walk-off sacrifice fly early this morning.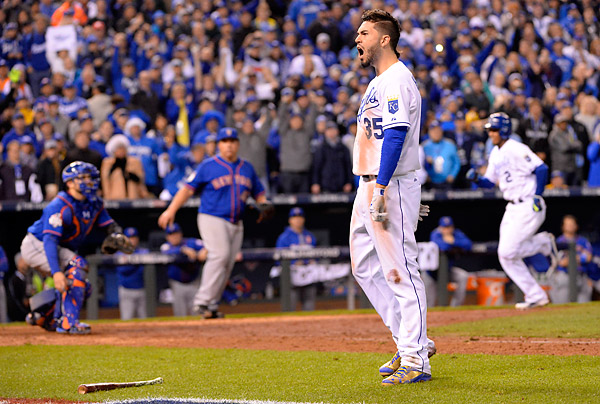 Game Two is a few hours away… Gotta go grab some lunch and get to the ballpark… Later!