Game Two of the 2015 World Series came and went Wednesday night, and unlike the thriller that went down the previous night (or shall I correctly say earlier that morning), Game Two didn't contain nearly the drama and excitement that Game One provided.
In short, "pictures" were in short supply… Unless you were a Royals fan of course. EVERY photo taken during Game Two was a "winner" in the eyes of the Kansas City faithful!
My favorite photo from Game Two happened during pre game ceremonies as Major League Baseball honored three Medal of Honor recipients. I have a soft spot in my heart for all veterans, but to have the honor of being in presence of a Medal of Honor recipient, much less three honorees, was quite humbling. Thank you for your service, gentlemen!
As the sole on field photographer for pre game ceremonies during the World Series, my responsibilities vary from game to game. On this night, my main focus (hah) was to make the umpiring crews group photo prior to the line up card exchange. It's fun being one of only a few people on field right before the game starts. The media throng has left, and the field is quite peaceful, even with 40, 410 fans in the stands. Soothing…
Game Two was simply… Johnny… Cueto… I can still hear the chant in my head… Johnny pitched perhaps the game of his life during Game Two, going the distance and only giving up two hits. His variety of moves, along with a dazzling array of pitches, kept the Mets hitters off balance all night.
Crazy as it was, it was the Mets that got on the board first, both hit-wise and run-wise, but what has been the blueprint of the Royals (carrying over from last season), they came storming back and plated four runs in the bottom of the fifth, started by what broadcaster Ken "Hawk" Harrelson likes to paraphrase as "the dreaded lead-off walk" to Alex Gordon.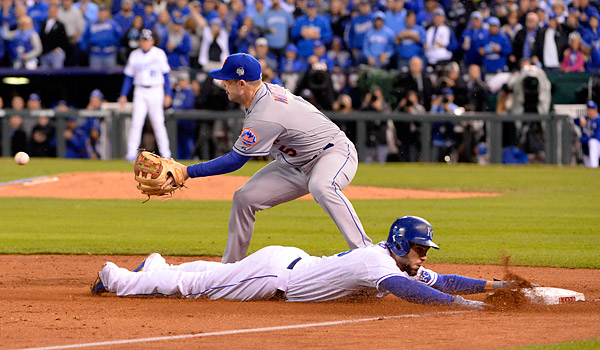 Dreaded it was as Gordon and three others scored and the momentum swung quickly and decisively the Royals way. Add those four runs to the Cueto pitching performance now underway and it was apparent to me that the game was over for all practical purposes from that point on.
The Royals added three more runs in the bottom of the eight, led by one of the heroes of Game One, Alcides Escobar, and then the only question was if Cueto would be allowed to finish what he started.
And that he did…
Game Three is tomorrow night at Citi Field. I'm excited for a number of reasons, one being I've never been to Citi and two, I sense a Mets comeback now that they're back on home turf.
Play ball!