Welcome from the Big Apple! Why a combined 2015 World Series Games 3 and 4 recap? Because, quite honestly, even though the Mets had a big night in Game 3, there were, at least from where I was positioned in the "outside first" photo box, no pictures that really stood out.
Baseball can be like that. Some games just aren't made for still pictures… Hah! So… I've combined Games 3 and 4 together here.
Noah Syndergaard was one of the stories of Game 3 along with a revitalized Mets offense which helped get the Mets back in the Series with a 9-3 win.
Game 4 was on Halloween… Nothing like Halloween in New York! The last time I was here for Halloween was during the 2001 World Series when Derek Jeter became "Mr. November". That was one memorable night!
This night began with what, for the first 5 innings, looked like it was going the produce a different New York hero, Michael Conforto. Conforto hit not only one, but two solo home runs to give the Mets a chance.
But squandered offensive opportunities by the Mets kept the Royals in the game. And that's dangerous, because the Royals are a great comeback team.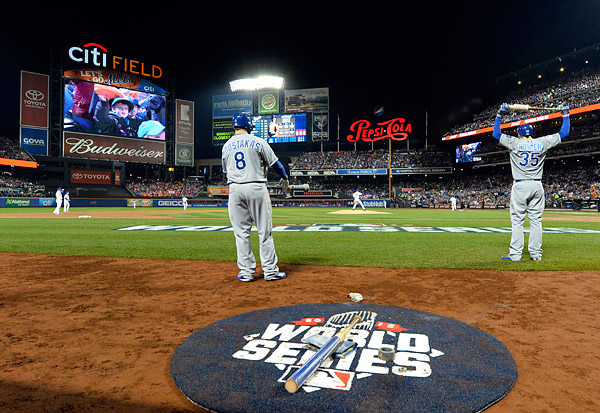 And when they do get the ball rolling, it usually results in a big inning and on this Halloween night that was again the case as the big boys, Eric Hosmer, Mike Moustakas and Salvador Perez kicked it into high gear in the eighth inning and didn't squander their opportunity and took the lead against Mets closer Jeurys Familia.
Consecutive walks to open the eight by Mets hurler Tyler Clippard put Familia in a tough spot, and the Royals capitalized when Mets second baseman and NLCS MVP Daniel Murphy booted a ground ball hit by Eric Hosmer which allowed Ben Zobrist to score the tying run.
One batter later, Mike Moustakas singled scoring Lorenzo Cain with what turned out to be the eventual game winning run.
The rest was pure Royals as they plated two more runs to take a 5-3 lead, which allowed the Royals the luxury to bring in closer Wade Davis to start the bottom of the eighth and earn a 6 out save.
Yoenis Cespedes was doubled off of first base on a liner hit by Lucas Duda to end the game and put the Royals up 3 games to 1 and set up a potential World Series clincher tonight in Queens.
Will that be, or will I be heading back to Kansas City for some barbecue and baseball Monday morning? The Mets have Matt Harvey on the bump versus Edison Volquez for the Royals.
I'm hoping for BBQ…