April in Chicago can be wicked on one's body and soul. One minute, it's spring, the next, back to winter…. toss in a tease of summer here and there, just to mess with your head. The same can generally be said about early season Chicago baseball too… but not this April!
Dare I say this has been an April to savor on both sides of town. While I tip my hat to the recent successes that the Cubs have enjoyed too, my focus (hah!) is on the team that calls home U.S. Cellular Field, nestled into the southeast corner of 35th and Shields. The White Sox closed April with 17 wins, tying the club record for most wins in the month of April. They also won 17 in April,  2005. I recall quite vividly how that season ended up!
While covering the Sox this spring in Arizona, I could tell things were different. With all the new personalities joining the squad, the team indeed took on a very new personality. One that featured fun, intensity and fundamentally sound baseball, mixed with that age old baseball ingredient that every competitive team requires, solid pitching.
I had a blast photographing many of the boys during a photo day "photo shoot"… no attitudes, just a group of guys who truly seemed to enjoy each others company.
Come April, flipping the switch to "on" didn't change the equation one bit. Sure, Mother Nature showed up on Opening Day wearing her worst, even tossing in an occasional snow flake onto what turned out to be a very cold and fall like Opener in the Second City.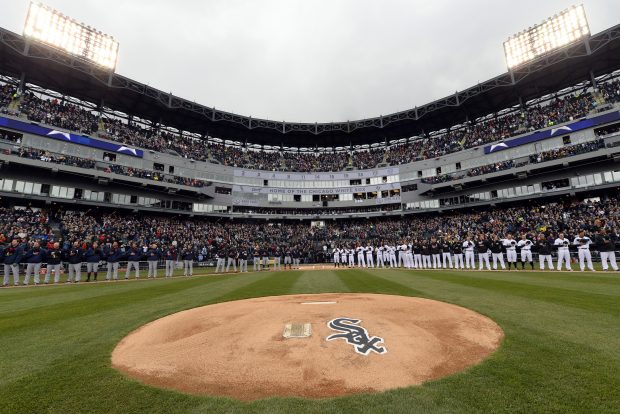 The weather might have been cold, but the White Sox started hot… Even without the bats of Jose Abreu and Todd Frazier operating at peak efficiency, the Sox found ways to win. Pitching and defense kept the team in nearly every game, and timely hitting got the job done offensively.
Todd Frazier brings his glove and the stick to the ballpark… every day.  I'm really digging his on field leadership too. What's not to like? He even has a little Sinatra played as his "walk up" music.  My Kind of Town… and my kind of player too!  While his average isn't yet at its historic norm, Todd's hits are more often than not big hits.. He's on pace to hit 40 plus dingers. Nice!
And Chris Sale?  What new?
His 5 and 0 start to the season doesn't come as much of a surprise, especially to those of us who see him pitch regularly. But having Chris on the bump every 5 days tends to spoil you. You expect to win every game he pitches.
And how about that Mat Latos? Mat, to date, has gone 4 and 0, with an ERA under 1 for most of the month. Matt Albers?  Like a cat!!! And then there's the revitalized Adam "Spanky" Eaton. Adam has been playing outstanding baseball, both offensively and defensively while patrolling his new lair in right field.
His bunt single against the Orioles with two out in the ninth inning April 30th set the stage for Jose Abreu's game winning RBI single to take the Pale Hose to a record of 17-8 for the month.
Brett Lawrie's approach in being prepared to play while having fun shows too.  Speaking of Lawrie, the threesome of Lawrie, Melky Cabrera and Dioner Navarro is one crazy trio… The fun they enjoy seems to be contagious.
You know, it's funny how good baseball translates into good baseball photos.  No surprise really, but perhaps what made this April so much fun for me is that the winning coincided with many good photo opportunities. Of course it's up to me to turn those opportunities into something tangible, and the more we played, the more "on" I felt. That, and the occasional April game without dugout heaters wreaking wavy, distorted havoc with my images, has made this April special for me!
Simply stated, this team just plain knows how to have fun… Here's to hoping that this fun translates all the way though the summer and doesn't stop until early November!  There, I said it…
Carry on, boys!  #GetErDone