With the Series tied one game apiece, the scene switched to Wrigley Field. There was a buzz in the air as our taxi dropped us off near the scoreboard at the corner of Waveland and Sheffield 5 hours before the game.  The place was electric!
It had been 71 years since a World Series game was played at 1060 W. Addison, and with the first pitch of the game by Kyle Hendricks, there seemed to be a sense of relief… Finally, the Fall Classic was back to what many call "The Friendly Confines".
With the wind blowing out and the temperature in the low 60's, many anticipated a high scoring game but it was not to be. A pitchers duel was the deal of the day, and when pitchers duel, pictures are few, to the dismay of us photogs.
Addison Russell provided a much needed "photo pop" mid game.
Coco Crisp was a the offensive hero for the night for the Indians, delivering a clutch RBI single in the seventh inning.
With the seemingly invincible Andrew Miller in the game, the Cubs bats stayed dormant.
I will let my pictures tell the story. Bottom line, it had a happy ending for the Tribe as they defeated the Cubs 1-0 in Game 3.
Celebration time in Cleveland as the Cubs looked to re-boot for a must win Game 4.
Ben Zobrist's wife, Julianna, sang God Bless America to set the stage prior to Game 4, and actor Vince Vaughn was in the house to sing Take Me Out to the Ballgame.  The stage was set for a fun night at the old ballpark!
The Cubs took the lead early in Game 4 and Wrigley was rocking…
But the Tribe came right back and literally took the air out of the sails of the forty one plus thousand in attendance. It was all Cleveland from that point on.
Corey Kluber, Andrew Miller and company kept the Cubs bat in the deep freeze as Jason Kipnis and Carlos Santana were the offensive heroes.
The Indians are one win away from winning their first World Series since 1948.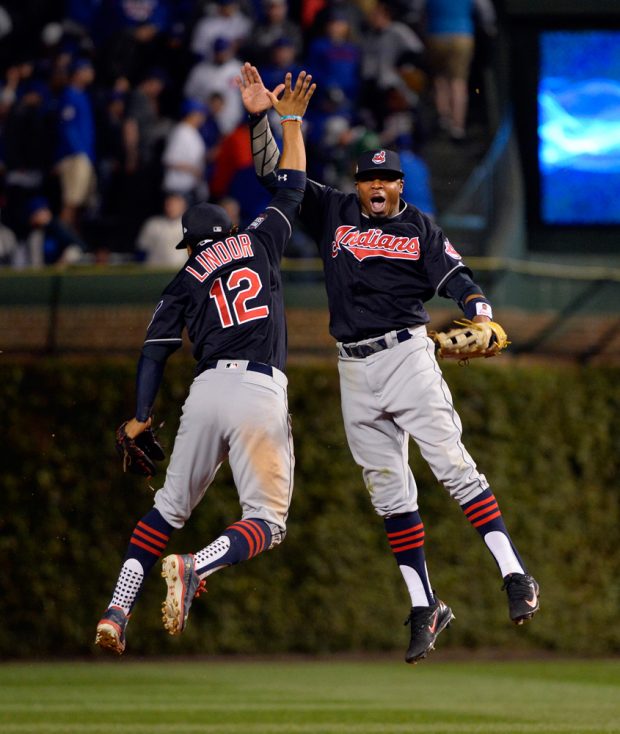 Will the Cubs make a historic comeback and send the Series back to Cleveland, or will tonight be THE night that Cleveland truly "Rocks" ??