The 2016 World Series marks my 25th Fall Classic… How ironic that my silver anniversary World Series is one of such historic significance! I've seen some great moments in my previous 24 Fall Classics, particularly the White Sox World Championship run in 2005.  Joe Carter's walk off, Kirby, the Earth Quake Series, Derek (Mr. November) Jeter… wow! Now this! I've got just one word to describe it all… SWEET!
For the first time in 71 years, the Chicago Cubs will be participants, along with the Cleveland Indians. The Tribe, while participants in the Series in 1997, haven't won the World Series since 1948. And of course, the Cubs, who havn't won the World Series in 108 years…
Bottom line… SOMEONE is going to finally update their resume!
For me, the most significant aspect of being able to cover the Cubs historic reappearance in the Fall Classic is to enjoy watching my north side counterpart, Steve Green, the Cubs team photographer since 1981, experience the joys I enjoyed while living the dream in 2005 with my beloved Chicago White Sox White Sox!  Such a special time… I'm elated Steve has FINALLY gotten to the "Promised Land" with a chance to earn a ring.
Both clubs seemed loose and ready to go, and it's no coincidence considering that both clubs league champion status starts at the top with their managers,  Tito Francona and Joe Maddon.  These guys are good…
For the benefit of my many baseball friends, both Cubs and Indians, I've decided this year my blogs are going to be very photo heavy with minimal story… Enjoy!
Oh yeah, by the way… The Indians and Corey Kluber dominated the Cubs in Game One.  Kluber struck out 9 in six innings of work.  Back to the photos…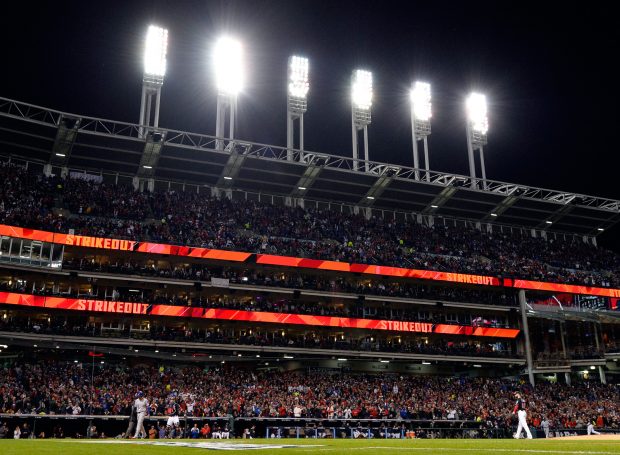 The offensive hero of Game One was Tribe catcher Roberto Perez, who clubbed two home runs in the Indians 6-0 white wash of the Cubs…
With threatening weather in the forecast, which prompted an unprecedented game time first pitch change to try and beat the rain, Game Two was all Cubs.
Game Three is tomorrow night at Wrigley Field, the first World Series game played at Wrigley in 71 years! I'm looking forward to being there to record history. The weather forecast is for unusually warm temps and the wind blowing out.
Here we go!